Microsoft To Soon Launch Accessibility Features For Windows 11 And A Range Of Accessories For The Disabled
rinnadewatasari
13/05/2022
1181
Microsoft has recently highlighted a range of accessibility features that will soon be launched for its Windows 11 OS, along with an accessory line for the disabled community.
The announcement was made in line with the company's initiative of pushing for simple features that would transform Windows 11 into a more user-friendly platform for all.
The company has already begun testing the features with its insiders. As far as what users can expect is concerned, well, there is a Focus Mode, tools for live captions, control for Voice Access, and more.
The Focus functionality comes in the notifications center and can be activated with just one click. And once it gets enabled, users can benefit from minimal distractions and can even disguise their notifications.
As far as the Live Captions functionality is concerned, it's the same as the one seen on Android and works as subtitles. Above all, it can be customized and displayed anywhere.
The Voice Access feature of Windows 11, this one is much more powerful than the usual speech recognition that only makes use of the voice. Through simple words, you can now communicate with Windows.
Another exciting functionality that's up for grabs includes the Windows Narrator which makes use of natural voices that are built inside Windows. So you can now bid farewell to complex, hard-to-understand sounds that make comprehension so difficult.
But another point worth mentioning is the Inclusive Tech Lab that was created to assist in the development of products and accessories in the future that could be made available to the masses such as additions to Edge and enhanced game development.
Microsoft has also spoken about its plans to unveil more PC accessories through a new range for the disabled community.
The innovative range of accessories was first spoken about at the company's Ability Summit which is said to have wowed audiences, considering the fact that they are super flexible in terms of use and even designed with various customizations in mind. This way, they are great at fulfilling everyone's needs.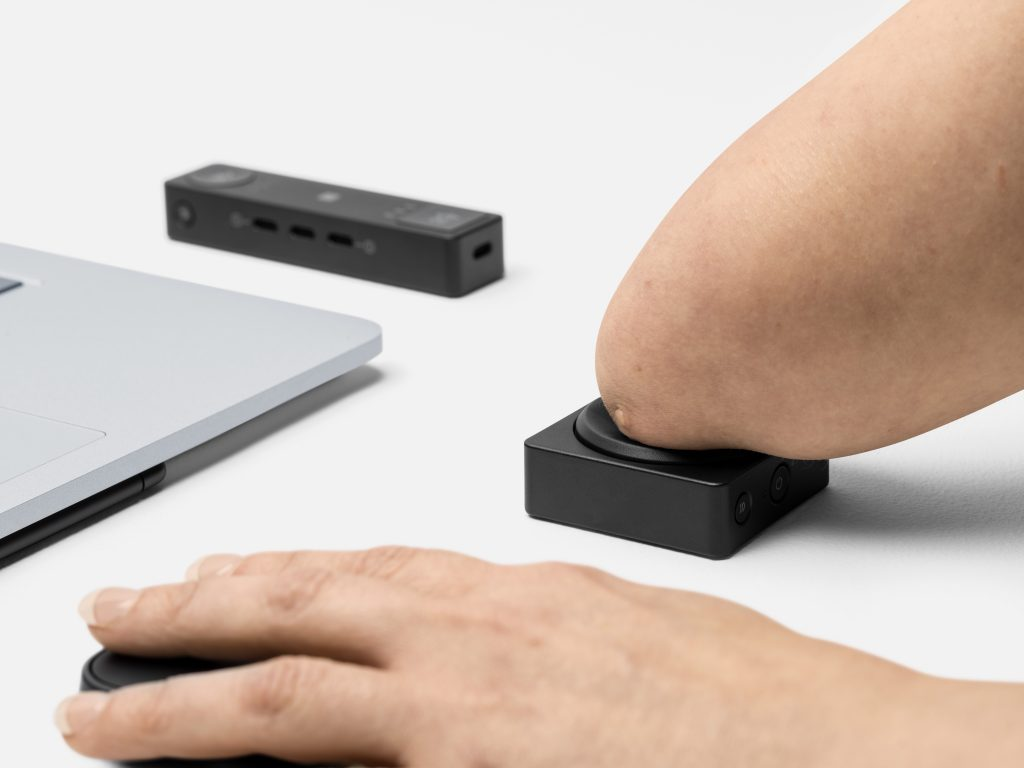 Microsoft has placed an exciting new range under their hardware products line with the label: Adaptive Accessories. It comprises an Adaptive Mouse, Buttons, and a Hub- all of which are very configurable. This means they can be used to support various functionalities like add-ons arising from a Mouse Tail and Thumb Support. In addition to that, you can find customized 3D additions that add a special touch to different cases.
The company shed light on how it was able to create the new accessories by taking inspiration from the Adaptive Controller which is a part of Xbox's success.
Microsoft says the new range of products for the disabled will really help those who find it hard to use the classic mouse and keyboard. Moreover, the new features can also help in eliminating pressure or pain areas that some may feel while getting their work done on a routine basis.
Even better, disabled users can even link their buttons with the Hub to get support to four different connected buttons at the same time. This includes convenient switching between the altered devices and their settings.
Each button is unique in terms of function and they come in-built with options like joysticks, 3D designs, and a D-pad as well. The mouse is also very innovative in terms of design with three different parts attached.
As far as the launch date is concerned, Microsoft hopes to roll it out by this year's fall but there is no indication of any pricing strategy as of now.
Latest: Things You Need To Know Before Buying Earbuds
Next: Turn Your iPhone Into a Point-and-Shoot Camera With This MagSafe Accessory
Related Articles